About
Tabitha Hospice is the gold standard for quality, compassionate, end-of-life care. A team approach combining expert medical care, pain management, and emotional and spiritual support, hospice care allows each individual to spend his or her final months to the fullest—with dignity and choice.
Established in 1979, Tabitha Hospice was a pioneer in hospice care and today is the longest-running hospice program in Nebraska. For decades we have gained the trust of local families and health care providers.
Despite enormous medical advances, too many Americans still die alone or in pain. Too many endure costly and ineffective treatments. Too many come to hospice too late, or not at all. 80 percent of Americans say they would prefer to live out the remainder of their lives at home, but fewer than 25 percent do. However, of those with hospice care, 75 percent are able to finish their life's journey at home.
Like all of Tabitha's Senior care services, Tabitha Hospice is motivated by Christian compassion, not economic gain. We are a not-for-profit hospice care provider. Unlike many of our for-profit competitors, we do not have to focus on generating profits for our shareholders. Instead, we focus on helping those we care for make the most of their lives.
What Is Hospice
Hospice care allows clients to live their final months to the fullest—with dignity and choice, providing assistance when needs turn from cure to comfort. Enrolling in  hospice care sooner helps families and clients manage pain and symptoms, reduce caregiver stress, plan advance directives and allows for quality time together during life's last chapters.
HOSPICE CARE:
Provides support and care for those in the last phases of a life-limiting illness
Focuses on quality of life for individuals, caregivers and family
Assists to honor and carry out end-of-life wishes, from a special meal or visit to bucket list activities
Supports caregivers and family through grief
Who Is Eligible
Anyone choosing to focus on comfort and quality of life who is faced with a life-limiting illness.
Where Is Support Provided
In the comfort and familiarity of wherever home may be, or in Lincoln, at Tabitha's Journey House, a residential-style home dedicated to hospice care.
How Do You Pay for Care
Hospice care is covered by insurance:
Medicare
Veterans' Administration (VA) Benefits
Medicaid
Private Insurance
Thanks to generous donations, regardless of ability to pay for services—no one is turned away.
When Is It Time For Hospice
Signs to consider
Increased assistance needed with activities of daily living including walking, dressing and bathing
Reduced desire to eat, leading to weight loss
Multiple hospitalizations or ER visits
Recurring infections
Functional decline, including inability to speak or communicate clearly
Increased pain or difficulty breathing
Progression of disease including poor response to treatment
Decision to focus on quality of life instead of aggressive treatments
Why Tabitha
Tabitha is a local, faith-based nonprofit offering compassionate and exceptional quality care including for over 40 years.
Tabitha Hospice clients and families are supported through:
24/7 availability for consultation and urgent visits
Coordination of medication, medical equipment and supplies
Personal care needs and companionship provided by hospice aides and volunteers
Personalized Veteran services
Emotional and spiritual support from a team of social workers and chaplains
Full continuum of care for ease of transition between services
Bereavement services for all loved ones during and after hospice care, including supportive grief groups and reference materials
The Tabitha Hospice medical director works with your loved one's physician to develop a plan for optimum pain relief and symptom management. The medical director will intervene to assure delivery of appropriate treatment to support your loved one's care plan, within established hospice guidelines.
Early engagement with the Tabitha Hospice interdisciplinary team helps individuals enjoy the things they care about most and pursue final wishes and goals.
Although not a primary caregiver, the Tabitha Hospice team reduces the stress of caring for a terminally ill loved one by providing nursing, emotional and spiritual support, medical planning and advance-directive help, and many other resources to ease the challenges of caregiving. Care is provided wherever you call home. 
We Honor Veterans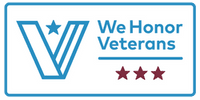 Serving those who have served our country is a privilege. In addition to our Hospice services, Tabitha is a Level-Three We Honor Veterans Partner to serve the unique needs of America's veterans and their families.
Pinning Ceremonies
Tabitha collaborates with local community organizations to host pinning ceremonies to honor those who have served our country. This celebration may be attended by a Tabitha social worker, nurse, chaplain and/or volunteer coordinator. Our ceremony is tailored to meet the needs of the Veteran including requests for private ceremonies. We recognize Veterans by providing them with a pin and a certificate that reflects their branch of service. Prayers, uplifting songs and poems are shared while surrounded by the love and comfort of family and friends.
Make-It-Possible
Tabitha aims to make dreams come true for Elders, and in doing so, improving the quality of their lives in ways medicine alone cannot. Our program gives you and your loved one the opportunity to have an experience that otherwise may not be possible. This may include having a friend brought to the bedside for a few final moments of comfort or visiting an old neighborhood full of cherished memories. The Tabitha Foundation works alongside our hospice team by coordinating these last wishes to help Elders live life to the fullest.
Vet-to-Vet Volunteer Program
If you or your loved one would like to be visited by another Veteran, our hospice volunteer coordinators can arrange this for you. These volunteers are specifically trained to work with clients under hospice care.
Tom's Story
Tom's wife was shocked. "You're not ready to die," she replied. "No," he explained, "but that's not all hospice is for. We need hospice now so our family can better enjoy the time together we have remaining, instead of always worrying about my care."
Tom was right, and his Tabitha Hospice team took care of much of Tom's personal care, helped with light homemaking and encouraged the family to do special things together, which may not have been possible without the caring, compassionate support of Tabitha Hospice.
Bonnie's Story
With a poor prognosis, Bonnie decided not to undergo chemotherapy or risky surgery. For Bonnie, "hospice" never was a scary word. She had seen the compassionate care given by the Tabitha Hospice team to both her mother and uncle, and when it came time to face her final journey, she knew she and her family were in good hands. Though weakened by illness, not even her body betrayed the spirit Bonnie had embraced all her life. 
Because of her decision, Bonnie was able to enjoy the last several months of her life more fully. She was able to spend quality, pain-free time with her family and friends, and do more of the things that were important to her during her final days.
"Tabitha Hospice opened the lines of communication for Bonnie and her family to make decisions and focus on the things that mattered most to her," Jennifer, Bonnie's Tabitha Hospice nurse, said. "Bonnie's story is a beautiful example of the invaluable purpose Tabitha Hospice fulfills for all our clients facing the end of life." 
Tabitha Hospice Service Area
Tabitha Hospice services in Nebraska include the cities of Lincoln, Grand Island, Kearney, Nebraska City, York, Seward, Columbus, Hastings and surrounding areas. Coming to Omaha, NE, in 2022. View full hospice care area here.
Resources
Want to learn more about Tabitha's renowned, compassionate hospice care? Contact a Tabitha Senior Care Expert today or call 402.486.8520 for more information. We'll connect you with the Tabitha resources that best fit your own or your loved one's aging journey.