About
GracePointe by Tabitha Assisted Living & Memory Care Suites is Lincoln's premier assisted living experience, a beautifully designed, state-of-the-art community wrapped in the love and compassion of Tabitha's renowned caregiving. GracePointe provides a maintenance-free lifestyle, around-the-clock personal care including specialized services for those experiencing the effects of dementia including Alzheimer's disease, enriching activities focused on health and wellness, and leading-edge technology.
Location
Brochure
Resident Suites
Featured Spaces
Why Tabitha
GracePointe caregivers meet our residents' physical and emotional needs with compassion, allowing them to feel secure and at home at all times. With 'neighborhoods' where residents and staff develop caring, family-like relationships, GracePointe provides seniors—including those experiencing dementia-related memory loss including Alzheimer's disease—with all the richness of living in a safe and reliable environment you can trust. Located in the heart of Lincoln, Nebraska, GracePointe is conveniently located for visitors and guests. 
GracePointe suites feature several floor plan options in spacious and comfortable two-bedroom, one-bedroom and studio suites. Additional amenities our residents enjoy include:
24-hour emergency response personnel on site
Community dining rooms
Innovative safety monitoring technology
Pub-style gathering place
Private dining room
Fireplace lounge
Library and media den
Community living rooms
Beauty and barber shop
Outdoor patios and walking paths
Secure, underground parking
Paid utilities
100% wifi coverage
At GracePointe, we believe Seniors can live an active, fulfilling and social lifestyle at any age. Our activities program is based on a review of residents' hobbies and interests. Activities are designed to keep the mind, body and soul active, and may include:
Spiritual services
Devotions
Social groups
Cooking group
Stretching/exercise and music groups
Interactions with volunteers of all ages
Community news
The care team spends time getting to know each resident and exploring their interests
There are many opportunities at GracePointe for Seniors to continue the activities they enjoyed at home, along with the chance to discover new ones.
Floor Plans
Video Tours
Get to Know GracePointe Video Series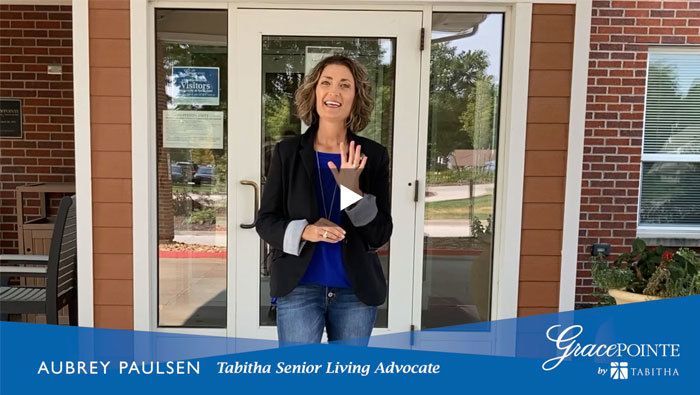 Stan's Story
There's a twinkle in Stan's eyes whenever you mention his wife, Ruby. Married since they were teenagers, the couple has been inseparable ever since. In recent years as Ruby's health declined, Stan knew he couldn't care for her anymore on his own.
They moved into GracePointe, and Stan still goes to the office most days, leaving Ruby in the caring and capable hands of the community's dedicated staff. He can still enjoy all the things he loves about life, including his marriage, without the added pressures of being a caregiver, too.
Resources
Want to learn more about about assisted living at GracePointe? Contact a Tabitha Senior Care Expert today or call 402.486.8520 to schedule a tour. We'll connect you with the Tabitha resources that best fit your own or your loved one's aging journey.